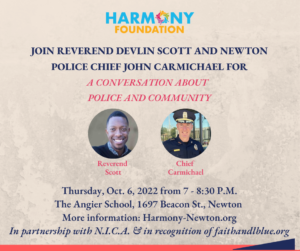 Please join the Harmony Foundation at the Angier Elementary School, 1697 Beacon Street, Newton, on Thursday, October 6, from 7 p.m. – 8:30 p.m.  
The Harmony Foundation invites you to an open Conversation about Police and Community between Reverend Devlin Scott and Newton Police Chief John Carmichael. This conversation is intended to explore a range of the complex and difficult issues that communities and police have faced and still face, and touch upon what the future may bring.
If you have a question or topic that you'd like to see addressed, we encourage you to write to [email protected]  Please indicate your preference as to sharing your name and/or organization or asking the question anonymously.

Please note that submitting a question does not guarantee its inclusion as part of the conversation, as the discussion content will be at the discretion of the event hosts.
The Harmony Foundation is hosting this event in partnership with the Newton Interfaith Clergy Association and The Newton Police Department in recognition of National Faith and Blue Weekend.
Faith and Blue is a nationwide community building effort to facilitate safer and stronger communities by engaging law enforcement officers and local residents through the connections of faith-based organizations (to be held Oct. 7-10 – learn more at faithandblue.org.)
Guests are encouraged to attend in person, and NewTV may provide coverage as well, with more details forthcoming. Light refreshments will be served.  Please check this post for additional event details.